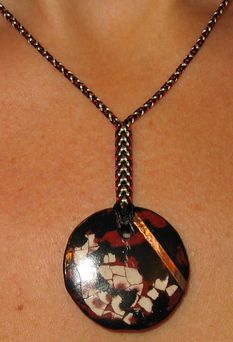 In January 08 Claire Cassan taught us her eggshell technique and we practiced on a small pendant.

The technique described below is a simplified version of an ancient Japanese lacquer-ware technique, 'rankaku' meaning eggshell in Japanese. The red on black pattern is called Negoro, it is achieved by covering several layers of black lacquer by a few layers of red lacquer. Careful sanding of the red layers reveals the black. Associated to the white of the eggshell it gives a very intriguing effect.

Before starting this project, be aware that it is very time consuming. It takes at least 3 hours for a small pendant, during that time you will paint and sand and again. What I describe is already very simplified compared to what a Japanese lacquer artisan would do.