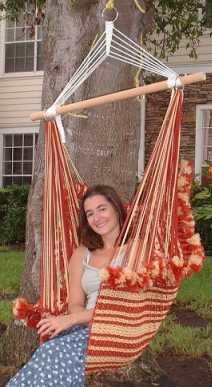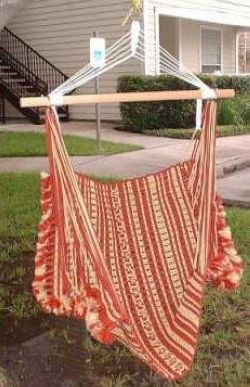 I couldn't find a pattern on the internet for a hammock-chair so it is a personal design. I decided to make very tight knots compare to the first hammock, because I do not like to feel like a fish caught in a net.

It took me a week and a half, working 2 hours the evening in week-days, and a lot more during the week-end. There are more than 2300 knots in this design, take your time.

I used polypropylene Bonnie-Braid Cords, "wine" and "harvest", 6mm, 400 yards in each color. You can purchase them at Carol's rug. It's a little rough to the touch and expensive but there are more colors to choose from than with nylon seine twine from a boating store. The knots used are : Lanyard knots (to attach the cords to the dowel), clew knot (the triangular knot below the top ring), square knots (for the hammock itself), and Josephine knots (for the middle vertical line).

If I had to do it again I would change how I connect the sides of the chair to the bar, I have left too many cords and it is cumbersome.