Daube
Marinade
1/2 l de vin rouge
1 petit verre de cognac
2 c.s d'huile
2 gousses d'ail
bouquet garni, sel, poivre
Viande et legumes
800g de macreuse ou jumeau (pas trop seche)
1 pied de porc ou des couennes
carottes
1 oignon pique de 3 clous de girofle
2 tomates
zestes d'oranges
sel poivre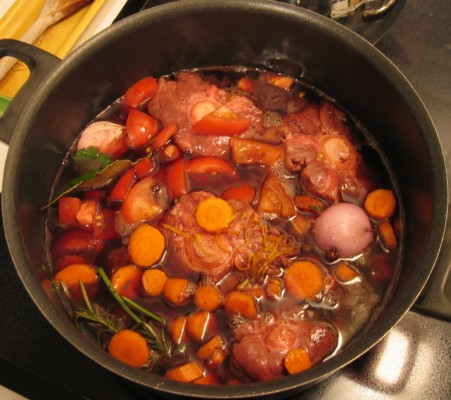 Couper la viande en gros des.
Faire mariner quelques heures au frigidaire dans un recipient ferme.
Egoutter la viande et faire dorer dans une cocotte.
Ajouter la marinade et les legumes.
Faire cuire au moins 3 heures.
Rechauffer et servir le lendemain.
Marinade
1/2 l of red wine
1 small glass of Cognac
2 spoons of oil (grape seed, sunflower)
2 garlic cloves
Provence herbs bundle, salt and pepper
Meat and Vegetables
800g of tender beef meat
1 pork feet
carrots
1 onion with 3 cloves
2 tomatoes
orange peel
salt and pepper
Cut the meat in big cubes.
Let soak several hours in the wine + cognac + oil + garlic +herbs mix, in a closed container, in the fridge.
Remove the meat from the liquid, cook in a pan to brown all sides.
Add the liquid and veggies.
Cook at least 3 hours.
Reheat and serve the following day.