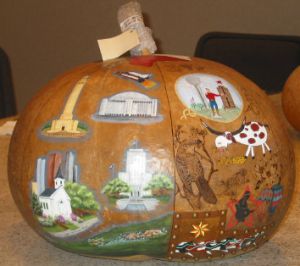 The Southeast Texas Gourd Patch regroups people sharing a love for gourds in the Houston Area.
This patch belongs to the Texas Gourd Society which in turn is part of the American Gourd Society.
We meet generally at 11am on the second Saturday of each month. The meetings include a variety of speakers and gourd crafting projects, and we share tips and experience on gourd growing and gourd crafting. Gourd t-shirts, books and information are available at each meetings, as well as seeds, gourds, for purchase or swapping.
The patch participates in the Folklife Festival at Katy ISD Outdoor Learning Center each April.
Contact Bill Willibey willibey@sbcglobal.net for more information.